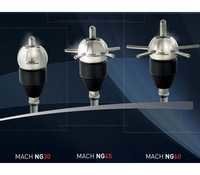 ESE Lightning Arrester
Product Description
Serving our patrons with flawless equipments, we bring forth an impeccable range of ESE Lightning Arrester. Driven with perfection, it is extensively used for protecting buildings from lightning. Widely appreciated for offering highest level of safety, it finds application in Hi-Tech manufacturing, metals & manufacturing, energy & utilities, cement, chemical and mining industry. Manufactured using high quality material, it is checked strictly in accordance with the various quality parameters at our end. Clients can avail this ESE Lightning Arrester from us in different standard specifications.
Features:
Highly efficient
Improved performance
Easy to install
Five Solutions to all your projects
High efficiency demonstrated (High Voltage Laboratories results on request)
Double security thanks to the two spark gaps dimensioned to have an operating range adapted to the frequential spectrum of the lighting (0 to 10 MHz).
Electrical and physical continuity from the IONIFLASH tip to the earth
Reliable and autonomous device even in extreme climatic conditions
Support tools for study and installation (software IONEXPERT 3000@, OPERATIONAL tests devices IONICHECK, IONICOUNT impulse counter)
7 Years guarantee. Lifetime of 25 years. All material in stainless steel 316L protective fairing
Lowest carbon impact 33 Kg eq. Co2/ unit.
Tested in accordance to the standards NFC 17-102 Edition 2011, EN 50164-1, IEC 60060-1, UNE21186, production conformed to NF EN ISO 9001 : 2008 Standard Certifications No FR003277-2)
For working steps of the IONIFLASH MACH® see technical data sheet.
Carbon Impact results :

| | | |
| --- | --- | --- |
| Perimeter | Results IONIFLASH MACH T eq Co2 | Results INOIFLASH MACH accessories (T eq Co2) |
| Restricted | 99.2 | 115.2 |
| Life Cycle | 93.6 | 109.6 |
| Global | 151.2 | 167.2 |
Results per ESE air terminal :

| | | |
| --- | --- | --- |
| Perimeter | Results IONIFLASH MACH (Kg eq Co2/ Unit) | Results INOIFLASH MACH accessories (Kg eq Co2/ Unit) |
| Restricted | 33 | 38 |
| Life Cycle | 31 | 37 |
| Global | 50 | 58 |
Main Tests :

The first ESE air terminal which presents the double performance of conformity to all the tests of the NFC 17-102 Edition 2011 Standard and IEC tests.
The NFC 17-102 Edition 2011 is the European Standard used as the reference for the prescription and installation of the ESE air terminals.
The appendix C of the NFC 17-102 Standard requires a Complete sequence of consecutive tests carried out with the same ESE air terminal, in conformity in particular with the standards EN 50164, EN 62305.
The electrical, Standard IEC 60060-1 prescribes the test of insulation in rain conditions, applied to high voltage equipments
Protection Radius IONIFLASH MACH :
The protection radius (Rp) of a ESE air terminal depends of the height of its installation in relation to the surface to be protected, its early streamer emission and the level of protection chosen.




Height meters

Security %

2

3

4

5

6

10

15

20

30

45

60




Model




Level I

IONIFLASH MACH NG 15

73%

13

19

25

32

32

34

35

35

34

24




IONIFLASH MACH NG 25

68%

17

25

34

42

43

44

45

45

44

37

21

IONIFLASH MACH NG 30

66%

19

29

38

48

48

49

50

50

49

43

30

IONIFLASH MACH NG 45

61%

25

38

51

63

63

64

65

65

66

60

51

IONIFLASH MACH NG 60

56%

31

47

63

79

79

79

80

80

79

76

69




Model




Level II

IONIFLASH MACH NG 15

73%

15

22

30

37

38

40

42

44

45

42

34

IONIFLASH MACH NG 25

68%

20

29

39

49

49

51

53

54

55

53

46

IONIFLASH MACH NG 30

66%

22

33

44

55

55

57

58

59

60

58

52

IONIFLASH MACH NG 45

61%

28

42

57

71

71

72

73

74

75

73

69

IONIFLASH MACH NG 60

56%

35

52

69

86

87

88

89

89

90

89

85




Model




Level III

IONIFLASH MACH NG 15

73%

18

27

36

45

44

49

52

55

58

60

58

IONIFLASH MACH NG 25

68%

23

34

44

57

58

61

63

65

68

70

68

IONIFLASH MACH NG 30

66%

25

38

51

63

64

66

69

71

73

75

73

IONIFLASH MACH NG 45

61%

32

48

64

81

81

83

85

86

89

90

89

IONIFLASH MACH NG 60

56%

39

58

78

97

97

99

101

102

104

105

104




Model




Level IV

IONIFLASH MACH NG 15

73%

20

31

41

51

52

56

60

63

69

73

75

IONIFLASH MACH NG 25

68%

26

39

52

65

66

69

72

75

80

84

85

IONIFLASH MACH NG 30

66%

28

43

57

71

72

75

78

81

85

89

90

IONIFLASH MACH NG 45

61%

36

54

72

89

90

92

95

97

101

104

105

IONIFLASH MACH NG 60

56%

43

64

85

107

107

109

111

113

116

119

120
Contact Us
Office No-3/35, Punjabi Bagh, Near Agrasen Hospital New Delhi Delhi India 91-11-45054847
Phone :91-11-45054847